Have you been watching the
TV series
, 'Who do you think you are'? It's one of my favourites, probably because I researched my own family history several years ago in the days before ancestry.com and other internet sites. I spent hours at the archives and records offices, winding my way through miles of microfilm of census and church records, loving the detective work.
Fascinating though it was, mostly you only uncover names, piecing together families. The real excitement, as they show in the TV programme, is when you uncover stories about those ancestors which bring moments of their lives to life. I thought I'd share one of those moments with you. A warning though: this is not a happy tale!
When my Uncle Aaron died, my only request was to receive any family memorabilia: photos, certificates, that kind of thing. Amongst the small box of items were a handful of memorial cards. There were a few relating to my ancestors but most of the names were unknown to me. One of these was Ann Grey.
The card read:
In Memory of Ann Grey, Who unfortunately lost her life by an explosion of Gunpowder, May 29th, 1871.
I was intrigued! What was a 72 year old woman doing with gunpowder? It sounded like the kind of incident which must have been reported in the newspaper, so off I went to the record office.
Jackpot! There was a long article detailing the opening of the inquest into the incident.
A former miner, John Ainscough, who was the landlord of the Royal Oak pub, had been asked to transport two kegs containing 125lbs of gunpowder in his horse and cart. A young man, Eli Corner, had tried to lift the larger keg into the cart but it fell and powder was scattered over the road. Two other men, Howarth and Makinson, offered to assist in gathering it up. Shortly after, there was a huge explosion. It was said to be so loud that people from across the village ran to help, believing an accident had happened at one of the collieries.
Miraculously, although badly burnt, the four men survived. Only two lives were lost: Ainscough's 5-year-old granddaughter, Mary, and Ann Grey who both died later from burns.
As the report of the inquest continued, the first witness was called.
Peter Gregory, son of William
At this point, I almost fell off my chair. The witness was William Gregory who stated 'The deceased, Ann Grey, was my mother'. I couldn't believe it: William is my great great great grandfather! That made Ann Grey my 4x great grandmother! Just as amazing, I was now experiencing my family history through the words of one of my ancestors.
'Corner went on his knees and began to stroke the powder into the barrel, and Howarth got a shovel and afterwards a brush to get it together. I walked away and was about 30 yards off when I heard the report, which was a very loud one. My mother was standing at the top of the steps to the house, and...came to the foot of the steps. When I heard the report I came back and found my mother on the floor with her clothes all on fire...My mother never told me how it happened. A lad has told me a pipe was found'.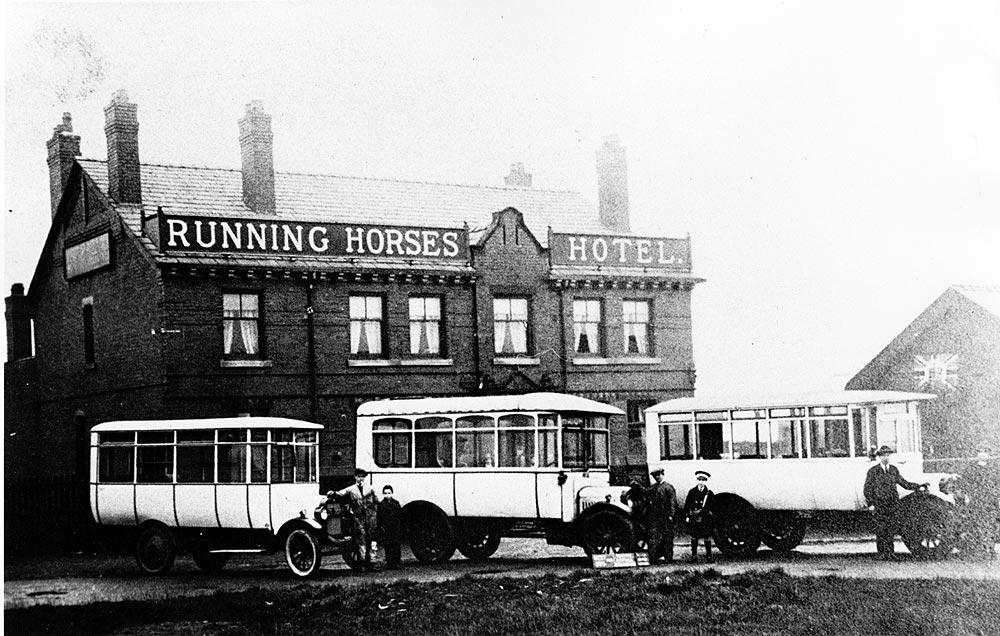 Photo courtesy of Wigan World
After another witness gave evidence, the inquest was adjourned and reopened six weeks later at the Running Horses pub. Ainscough, Corner and the two men had all recovered enough to give evidence though 'all bore marks of the hurt they had sustained and all were bandaged'.
Each gave evidence and there was much discussion of whether Corner or Makinson had been smoking, or whether the shovel had hit a stone and sparked.
'The Coroner briefly summed up. With regard to the ignition of the powder, there seemed to be some doubt, and conclusive proof he thought would never be obtained. The great probability was that the ashes from Makinson's pipe had caused the ignition but, upon this point, the evidence was not clear, and there was just the possibility that from Corner's pipe live ashes might have fallen. Unquestionably, gross negligence had been displayed.'
It's fair to say I had mixed emotions. Excitement at having uncovered some amazing family history but also sadness at what had happened to Ann. It just goes to show though that, no matter how ordinary your family, extraordinary things can happen.
Hope you enjoyed that snippet of family history - something different for a change. Normal service will be resumed next time with a day out from my holidays. More than a week gone already :(